With good road conditions, the trip from Louisville to Indianapolis on Indiana's stretch of I-65 takes less than 3 hours, but those 3 hours seem to last forever… Nothing to see. Nothing to do. Just more acreage in one of the "flyover states."
But what if we told you there was actually one of the most architecturally significant cities right off the highway or that you could see art made by a famous rock star right in the town where he grew up (that also happened to inspire some of his most popular songs)? There are so many things to do in Indiana just off I-65: great history, architecture, pop culture, shopping, food, and even beer all around. Here's where to exit the highway for the most fun trip possible…
After surviving the traffic and construction on Louisville's Spaghetti Junction (where I-64/I-65/I071 meet) and crossing the Ohio River, the scenery quickly begins to take a rural turn, and that's about when we come to our first stop...
Hop on the highway in Louisville... but not before you've had a nip of bourbon at one of the many bourbon bars here, toured one of the many museums, and poked into one of the many coffee shops and boutiques that line the streets of this quaint little city. Bid farewell to Louisville as you follow I-65 north into Indiana, where you'll find plenty of other places to visit!
13576 Blue Lick Rd, Memphis, IN, US
Gateway Classic Cars has locations across the US, each offering visitors the chance to see beautiful collector cars from the comfort of an indoor space. Their "Louisville" location is actually right off the highway in Memphis, IN and consistently boasts at least 70 cars on the showroom floor. While their bread and butter is the buying and selling of classics, they understand sometimes people just want to gawk and some classic beauties. For this very reason, a couple bucks will get you in the door to wander their ever-changing collection of cars for sale. (Maybe a good start to your road trip is just buying that vintage convertible you always wanted…)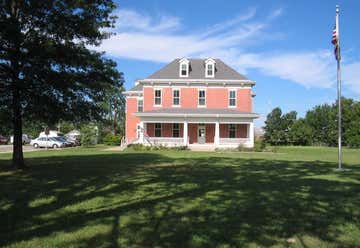 1050 S. Main St., Scottsburg, IN, US
I-65 then rolls into Scottsburg, IN, home to the Scott County Heritage Center. Once the county's "Poor Farm," today this old brick home serves as Scott County's quaint museum, but apparently the place has some leftover guests from the Poor Farm that make the nighttime a little less quaint. If you're passing through on a Friday or Saturday night you can learn all about the ghosts like flannel-wearing Bubba or the cat-loving Mary and her accompanying smell of sewer gas. A ghost tour is just $10. A small price to pay to potentially have the bejeezus scared out of you.
2001 N Ewing St, Seymour, IN, US
"No I cannot forget where it is that I come from…" John Mellencamp really hasn't. His boyhood hometown of Seymour, IN has an arts center thanks to John… When his childhood buddy's house was put up for sale, Mellencamp bought it, used the pre-Civil War house during the filming of "Falling from Grace," and then used it to establish the Southern Indiana Center for the Arts. The place has become Mecca for "Mellenheads," according to the SICA, and it is pretty much the only place you'll find rare art created by John Mellencamp himself (and THE only place you can buy John Mellencamp prints). Pretty cool!
100 N Broadway St, Seymour, IN, US
If you're one of those "Mellenheads," stop by the Jackson County Visitor Center as soon as you hit town for a special CD & map for touring his old stomping grounds. (To find out more about any special events in town, follow them on Facebook and Twitter.) It's a fun little adventure off I-65!
Despite being a city of just 44,000, Columbus, Indiana consistently ranks right behind big cities like Chicago, NYC, San Francisco, Boston, and DC for its architectural design, and that's just one of the many things that make this small city such a perfect pit-stop on your I-65 journey.
At the end of the day, Columbus is the one city stop you have to make between Louisville and Indianapolis. It's one of the coolest places to visit in all of Indiana, yet it remains a hidden gem of sorts. There are quite a few important buildings from renowned modern architects (most notably Eliel and Eero Saarinen). There are nearly a dozen places on the National Register of Historic Places, plus countless public art displays. Oh, and a great little old-school ice cream parlor: Zaharakos. Order a sundae after you tour the Miller House or check out the art at the town's visitor center.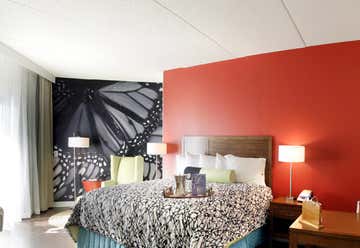 400 Brown Street, Columbus, IN, US
While the trip from Louisville to Indianapolis (and vice-versa) isn't normally an overnight trip, maybe you're coming from further away, you're looking for a weekend getaway, or you just want to spend more time in town. For overnight road trippers, we recommend the Hotel Indigo Columbus. Of course, it's an architectural and design gem itself with posh and beautiful accommodations-- easily one of the coolest hotels in all of Indiana.
329 Washington St, Columbus, IN, US
Seriously, don't miss out on a scoop of ice cream from Zaharakos. For 115 years, this ice cream parlor has been a destination for both locals and ice cream-lovers abroad. With a beautiful 50 foot mahogany bar, stained-glass, and antiques from the turn of the century, the vibe of the interior is nostalgic perfection. Jill Anderson from Zaharakos shows us just how diverse and delicious their menu is:
From here you can plan how you want to tackle the entire city while you enjoy one of the antique music machines providing classic background noise. Your options after filling up a Zaharakos are remarkable given the size of the city.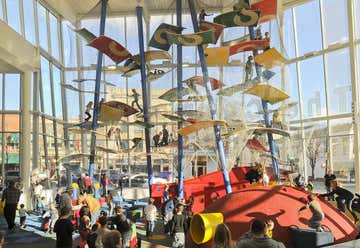 309 Washington Street, Columbus, IN, US
If you're traveling with kids (or you're just a big kid at heart) then Columbus offers you kidscommons, Columbus's children's museum, with 3 floors of interactive exhibits. The highlight? Flushing your kids down "World's Largest Toilet." (Pssst…. Word on the street is they'll let you in for free if you just want a picture with the giant john.)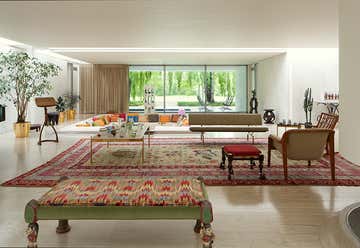 506 5th Street, Columbus, IN, US
If you're an architecture buff, your next stop is the Miller House and Garden Tour. If you love Modernist architecture with open, flowing layouts, flat roofs and lots of stone and glass, you'll think you've died and gone to heaven in the Miller House. Now owned and lovingly cared for by the Indianapolis Museum of Art, the museum elaborates on the house and grounds:
In 2000, the Miller House became the first National Historic Landmark to receive its designation while one of its designers, Dan Kiley, was still living and while still occupied by its original owners. The house showcases the work of leading 20th-century architects and designers: Eero Saarinen, Alexander Girard, and Dan Kiley.
Today, the property offers visitors the opportunity to experience one of the finest expressions of American modernism, an integration of house and landscape that draws upon historical precedents without repeating them, enfolding them in a compelling composition of forms and spaces that captures the genius of its designers, the aspirations of its owners, and the spirit of their time.
Tours of the property are $25 and last about an hour and a half.
11622 NE Executive Dr, Edinburgh, IN, US
Ok, so stopping by an outlet mall might seem like an unusually expected stop off a highway like I-65, but sometimes you just need some new shoes. It happens. The Edinburg Premium Outlets are exactly what you'd expect at a nice outlet mall. Enough said.
12595 N Executive Dr, Edinburgh, IN, US
But for more interesting shopping, hop across the street to Exit 76 Antique Mall. Here you'll find over 600 booths covering a whopping 72,000 sq. ft. with everything from antique furniture to automobilia. Definitely an interesting way to take a break from the road!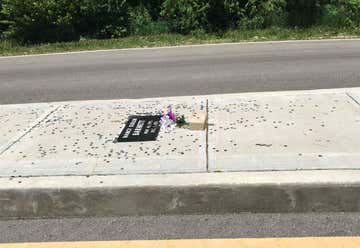 6844 E 400 S, Franklin, IN, US
After leaving the antique store and outlet mall, just take a right turn and stay on US 31 for about 9 miles until you turn right onto East 400 S. After you cross a creek you'll notice the road splits around a little mound of earth. Well, that's actually a grave. Despite originally planning to relocate the remains, the officials in charge were too afraid, so they just paved around it. It's a unique (and strange and morbid) photo op, for sure! Then make your way back to I-65.
Indianapolis, as the state capital of Indiana and the home of the Indy 500, features loads to see and do. Whether you're exploring the trendy Fountain Square area of town, or touring the Indianapolis Motor Speedway Hall of Fame and Museum just outside the city, there's something for everyone. Grab brunch at Milktooth, a garage-turned-popular eatery after spending the night in the quaint Nestle Inn or at a chic spot like The Alexander Hotel or the Conrad, among other hotels in Indianapolis!
See? There are plenty of interesting places to visit in Indiana, most just off I-65! From antiques and ice cream to giant toilets and weird graves, Indiana is more than just a flyover state... it's actually a really cool destination!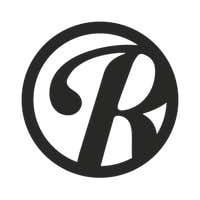 Roadtrippers helps you find the most epic destinations and detours—from roadside attractions to natural wonders and beyond.