Written by Jessica Johnson Webb
If you're only focused on your destination, you might not initially realize how lucky you are to be zipping along I-70 through Kansas. But the journey along this 424-mile stretch east from Kansas City to the state's western border boasts rich history, beautiful natural wonders, a plethora of "World's Largest" items, and so many other fascinating stops.
President Eisenhower signed the Federal-Aid Highway Act in 1956 and the first section of interstate highway in the country opened that November in Ike's home state just west of Topeka. Detour through Abilene and visit Eisenhower's boyhood home, make a pit stop in Oz to visit Dorothy Gale and her friends in Wamego, or gawk at the World's Largest Collection of the World's Smallest Versions of the World's Largest Things in the Grassroots Art Capital of Lucas.
While I-70 is a great way to get from Kansas City to Denver, it's also the pathway to some of the coolest things Kansas has to offer. Here are some of our favorites.
The peaceful strength at the confluence of the Kansas and Missouri Rivers has drawn visitors for centuries. The 150-mile Kansas River (or the Kaw to locals) ends here, pouring runoff into the Missouri River's strong waters. Both rivers were important transportation avenues for early settlers. In 1804, Lewis and Clark camped at Kaw Point for three days before heading up the Missouri. Today, Kaw Point Park offers spectacular views of the two rivers and the Kansas City skyline. The park includes easy walking paths and monuments to Indigenous Kansas peoples, and hosts occasional events and performances.
One of more than 30 Tribal Colleges and Universities (TCUs) in the United States, Haskell Indian Nations University has since become the country's premier TCU. Stop by the Cultural Center to learn more about Haskell's past, present, and future. Permanent exhibits include "Honoring Our Native Veterans," featuring paintings by Chester Nez, a Navajo Code Talker and Distinguished Haskell Alumni. In September, the Haskell Indian Arts Market draws Native artists and craftspeople from across the country. Pick up some beautiful artwork and an Indian taco.
If one of your secret wishes is to jump through a flaming hoop on your motorcycle, you have to make a stop at the Evel Knievel Museum in Topeka. Check out some of Evel's actual motorcycles on display, walk inside his 1974 Mack truck and trailer "Big Red," and indulge your inner daredevil. One of the coolest features is a virtual reality experience where visitors can "jump" 16 cars. The museum's website promises, "You can't look away. And he wouldn't want you to."
This rainbow-colored house was painted as a response to the Westboro Baptist Church's anti-LGBTQ agenda. Aaron Jackson and his nonprofit Planting Peace purchased the house across the street from the church and painted it in the colors of the LGBTQ pride flag. Since its inception in 2013, Equality House has served as a center for LGBTQ support and activism. In 2016, the house next door was purchased and painted in the colors of the transgender flag (pink, white, and blue). It has since become known as the Mott House in honor of Stephanie Mott, a prominent transgender Kansan. Neither house is open to visitors, but you're welcome to take photos in the front yard.
Non-Kansans are likely to immediately associate the state with Dorothy, Toto, and other beloved characters from The Wizard of Oz—and if you take a short detour to Wamego, you can visit them. The OZ Museum offers displays and ephemera from L. Frank Baum's original books and the iconic 1939 MGM musical, as well as other film versions (including The Wiz with Michael Jackson and The Muppets' Wizard of Oz). Take a selfie with the Tin Man or next to the ruby slippers peeking out beneath Dorothy's house. If you're hungry afterwards, stop by Toto's TacOZ next door for lunch.
Take a short detour through the Flint Hills and you'll find the Konza Prairie Nature Trails. Weaving through a working field research station, the trails offer visitors a chance to explore the gorgeous tallgrass prairie that used to cover much of the Great Plains. Three trails start in the same location and range from 2.6- to 6.2-mile loops. Or you can do a shorter out-and-back if you just need to stretch your legs. At its highest points, the trails offer remarkable views of both the rolling hills of the Konza Prairie and the Kansas River Valley.
President Eisenhower once said, "The proudest thing I can claim is that I am from Abilene." Spend some time on the peaceful grounds of his presidential library and boyhood home and you may understand why. Ike and his wife Mamie are buried in the Place of Meditation, a chapel-like structure built of native limestone. Ike hoped visitors would spend time contemplating and re-dedicating themselves to the ideals of this great nation.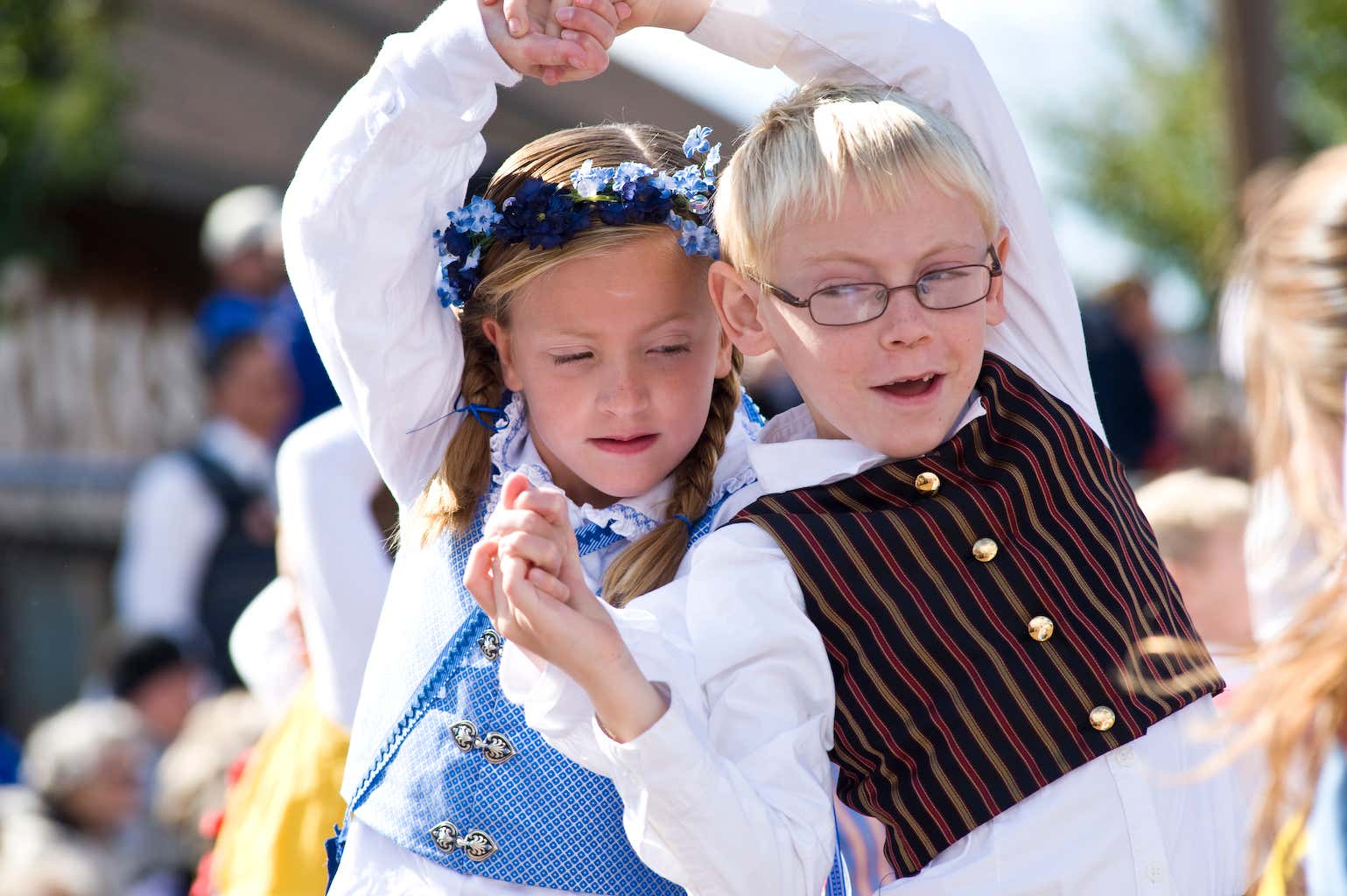 Founded by Swedish immigrants in the mid-1800s, Lindsborg has built on its Swedish heritage to create a rich culture in a picturesque small town. Shop at Hemslöjd downtown for Swedish gifts and iconic dala horses, eat at the Blacksmith Coffee Shop (snuggled into an old blacksmith workshop), or search for the "Wild Dala" art sculptures as you wander along mainstreet. Lindsborg also has a thriving arts community and you can find compelling works at a variety of venues, including the Birger Sandzén Memorial Gallery and The Red Barn Studio.
Lindsborg, Kansas, United States
Want to maximize your kitsch and see a whole collection of World's Largest Things in one stop? Veer off I-70 into Lucas to stop by the Roadside Sideshow Expo which houses some of World's Smallest Version of the World's Largest Things. Founder Erika Nelson started making her own miniature versions when she couldn't find a souvenir to take home from the World's Largest Ball of Twine located in Cawker City. Since then, she's amassed a collection of more than 200 miniatures. Lucas is known as the Grassroots Art Capital of Kansas, so you'll find all sorts of other strange and wonderful things in this small community of just 400 people.
One of the Eight Wonders of Kansas, the Basilica of St. Fidelis in Victoria is a Romanesque-style church that was the largest west of the Mississippi River when it was built in 1911. Still an active basilica, the soaring bell towers stand out starkly against the flat Kansas plains. Inside, the high vaults, rose window, and spectacular altar may inspire awe in even the most jaded visitor.
As you motor through the High Plains of Western Kansas, you might be surprised to learn this area was once part of the Western Interior Seaway which covered the middle of North America millions of years ago. Oakley residents Ernest and Vi Fick collected many fossils of ancient sea creatures and gave them to the City of Oakley in 1972, forming the Fick Museum. On display is the world's oldest known mosasaur fossil—a 15-foot-long Xiphactinus Audax—and some of Vi Fick's quirky folk art, including an American flag made from shark's teeth.
About 20 miles from the Colorado border, you'll find one of the World's Largest Van Gogh paintings. An 80-foot- tall easel displays a replica of Van Gogh's Three Sunflowers in a Vase by artist Cameron Cross. The sunflower is Kansas' state flower and a lovely way to welcome visitors traveling east as they enter the state, or wish them farewell as they exit.

Roadtrippers helps you find the most epic destinations and detours—from roadside attractions to natural wonders and beyond.